First Choice Lean Consulting
There is always room for improvement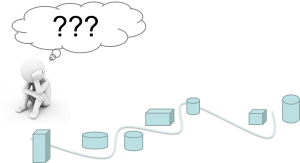 First Choice Lean Consulting has one objective, "Continual Improvement for our clients' businesses!" We understand that the first step towards change is often the most difficult one to take; so, we offer creative ways to introduce your company to the world of Lean Processing.
coming together for a common cause that's teamwork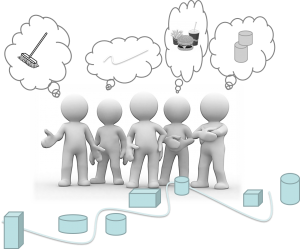 Our staff has facilitated and supported the implementation of quality and lean systems around the world. You do not have to concern yourself with the next steps, as we will work together to develop a road map to take you to a point where continual improvement becomes a way of life for your company.
some added structure may be the answer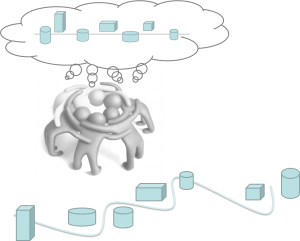 Most likely we have a solution for you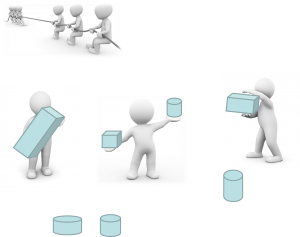 We maintain a portfolio of success stories which coincide with our primary objective to continually improve our clients' business. Each service offers specific tools designed to propel your company in the direction of self-sustaining continual improvement.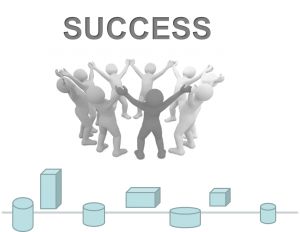 shop floor kaizen
Reduce non-value added time by 50% or more
Reduce lead time by 75%
Reduce direct labor by 30%
Shop floor kaizen training and facilitation activities focus on reducing seven categories of waste and pacing your rate of output to the rate of consumption.

administrative kaizen
Reduce data entry errors by 95%
Reduce lead time by 90%
Reduce indirect labor by 25%
Our administrative kaizen training and facilitation services will help to improve the quality of information, administrative costs, time to transfer information, time to process information, and customer service.

5S
Improve work safety by 20%
Reduce travel time by 40%
Improve product quality

5S projects are designed to create and maintain an organized, clean, safe and high performance workplace. This can take place on the shop floor or in the office area.

Set-up reduction
Reduce set-up time by 80%
Improve on-time delivery
Reduce WIP by 20%
Reduce lead time by 20%
Set-up reduction training and facilitation services will help to improve product quality, operational costs, scrap cost, equipment down time, and manufacturing lead time.

quality at the source
Reduce scrap by 80%
Improve customer satisfaction
Reduce rework by 60%
First Choice Lean Consulting's quality at the source training and facilitation services will help to improve your product quality by either reducing the possibility of passing a defect to the next operation or by eliminating the possibility of producing a defect.

3P
3P is a lean activity designed for companies who have a good understanding of kaizen and lean principles. Unlike kaizen, which places a focus on existing products and processes, 3P's focus is to eliminate waste at the design phase of new products and processes. Incremental improvements seen by kaizen activities convert to much larger improvements with 3P, as you are not restricted by preexisting design roadblocks.
Overall Initial Conditions
This is an actual project facilitated by First Choice Lean Consulting which shows 3 improvement cycles over a 5 day project. It is a near perfect textbook kaizen example for a warehouse operation
Project Initial State
Standard Work Combination
Takt Time / Cycle Time
Spaghetti Diagram
1st Improvement- Day3
Standard Work Combination
Takt Time / Cycle Time
Spaghetti Diagram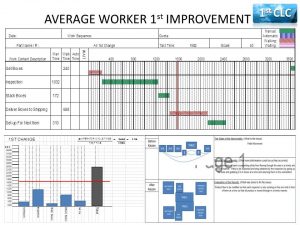 2nd improvement- day4
Standard Work Combination
Takt Time / Cycle Time
Spaghetti Diagram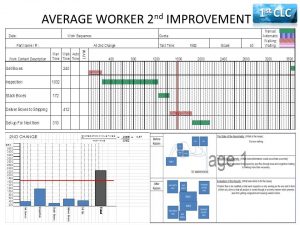 3rd improvement- day4
Standard Work Combination
Takt Time / Cycle Time
Spaghetti Diagram
Additional improvements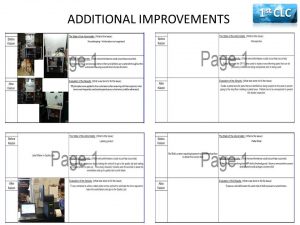 Final Results
85% Footprint Reduction
98% WIP Reduction
98% Lead Time Reduction
25% Reduction in Labor
40% Reduction in Travel Distance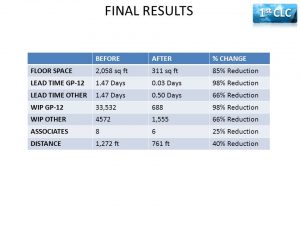 Visual Before
Visual After